If you need to create a new instrument, either because it is not yet on the market or because the existing ones do not meet your functionality or quality requirements, our engineering department will be happy to assist you.  We will base the design on our exclusive device Systratec CORE, the perfect expression of a high-end electronics for general purpose instrumentation.  Designed by our team from scratch, Systratec CORE is part of our best instruments, and provides them with unmatched computing power, along with the connectivity levels required by the current cloud-based connected devices.  Systratec CORE can handle a wide variety of standard sensors, that connect directly or through the use of our family of Systratec GRID expansion boards.  Systratec GRID expansion cards are electronic modules carefully designed by Systratec to handle the most accurate and advanced sensors on the market.  The combination of Systratec CORE with the appropriate Systratec GRID(s) is the perfect solution for your application.
Quality in the PCB
We manufacture our PCBs in Europe in a RoHS Directive complying,  advanced 8-layer design.  Each PCB is individually checked to ensure it conforms to our quality standards.
Quality in components
We only use components of the highest specification and from renowned manufacturers, paying special attention to avoid obsolescence.
Quality in peripherals
Our designs incorporate TFT capacitive or resistive touch screens, LCD displays, keyboards, LiPo batteries or data storage cards in line with our customers' expectations.
Quality in the firmware
We develop the instrument firmware tailored to our customers' requirements, submitting it to their validation tests.
Consumption efficiency
We minimize the power consumption as well as data consumption -in their communications- of our designs, significantly reducing overall operating costs.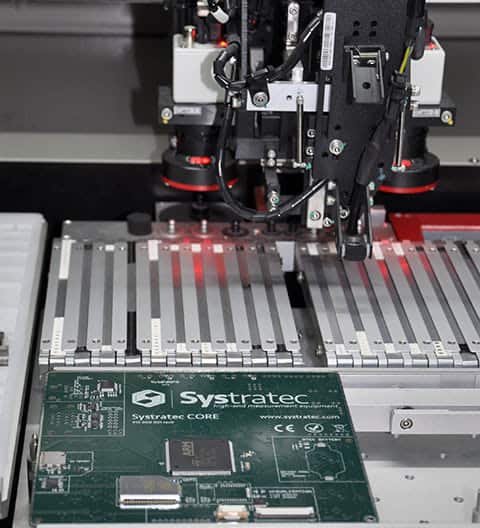 Available technologies and features
The instruments we create incorporate the latest in processing, measurement, visualisation or communications technology. Your requirements will determine the use we make of each available module.
Processor
ARM Cortex CPU RISC 32-bit FPU and DSP native instructions. Unmatched power to perform complex tasks and manage many devices.
Storage
EEPROM unit and microSD card slot. MicroUSB connector for external storage.
Human interface devices
From simple matrix keyboards or buttons to capacitive or resistive touch sensors for TFT screens.
Communications board-to-board
Provided through a free I2C bus with adaptable supply voltage.
Systratec GRID expansion boards
Five SystratecGRID ports available for connecting additional modules. As an example, see our LCGRID module for high-end load cell acquisition.
External communications
WiFi b / g / n configurable in client mode or AP (access point), with HTTP server. Standard Bluetooth and Bluetooth LE or smart. Industrial RS232 and RS485 / 422. Ethernet 10/100 communications.
Visualización
TFT and OLED screens. LCD displays. Segment LED displays.
Power supply
From 12VDC to 24VDC, depending on the application. Power back-up for RTC with lithium battery.
Analog and digital inputs/outputs
Four free analog inputs for signals up to 5V and four free digital GPIOs, two of which are configurable as PWM and two as external switches.
Would you like more information?
If we didn't answer to all of your questions, feel free to drop us a line anytime.