CARBON|aero Reference
Weight and Gravity Centre measurement system is the perfect expression of our engineers' experience designing High-End weighing instruments.
CARBON|aero Reference is our answer to the Aerospace Industry most common demands and requests: traditional systems in the market are too heavy, too difficult to install and with a lack of accuracy and repeatability. We invite you to discover, one by one, the innovative features and solutions that make CARBON|aero Reference the most powerful, flexible and easy to use Aircraft Weight and Gravity Centre measurement solution in the market.
Aerospace Grade Aluminium & Carbon Fibre
SYSTRATEC is the first weighing instruments manufacturer in the industry combining carbon fibre with aerospace grade aluminium to create high range mobile platforms, reducing traditional solutions weight and height in a 50% average.
The weight reduction, compared to cast aluminium or machined steel, greatly facilitates platform handling during installation, bringing significant improvements to your team work and safety conditions, and reduces also the time required to prepare the system for a weighing cycle.
The height reduction allows the use of thinner and shorter levelling ramps, which are easier to install, providing also smooth and safe aircraft towing environment.
High-End Laboratory load cells
Are all load cells the same? Far from it!
The final performance of a measuring instrument is determined by the lowest quality component. That will be the weakest link in the chain. Achieving the highest achievable quality requires evaluating each component, be it a screw or complete electronics, to ensure that it more than meets the necessary specifications.
That is why we decided many years ago to use HBK – Hottinger Brüel & Kjær RTN load cells in our aircraft weighing systems. It is a demanding load cell in terms of installation: it requires a mechanical kit made of H900 heat-hardened 17-4PH stainless steel to transfer the load in a targeted manner and to isolate it from transverse forces in order to give its best. Of course, once you have prepared a good "home" for it to live in, you can count on its extraordinary linearity, accuracy and precision for years and years and years.
Electronic-Assisted Installation
Systratec CORE
processing electronics, together with
Systratec LCGRID
acquisition module, both embedded inside each platform, provide outstanding hardware capabilities to our firmware engineers, allowing them to include this
innovative
and exclusive feature.
The signal from each load-cell is analyzed in real time during platform installation, making a continuous evaluation of platform position on the ground. The user receives clear information through the optional local display interface or at the remote Bluetooth control unit, helping them to adjust the feet of the platform until equilibrium is reached. In this way, the user can repeat laboratory calibration position every time a weighing is performed.
This exclusive tool guarantees the best weight balance possible among the four sensors, ensuring that the load-cells are been used inside their best range and consequently increasing the quality of the measuring data, together with the system reliability, fidelity and repeatability.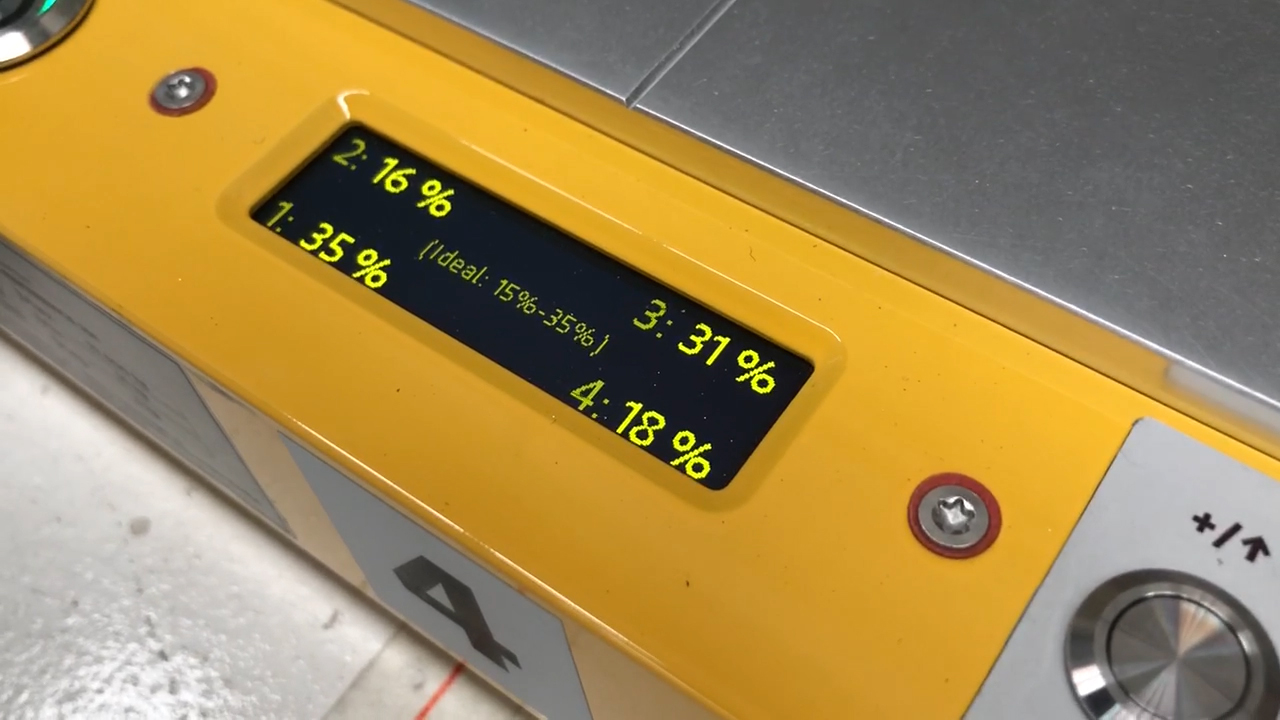 Optional Wireless communications
Cable lines around an industrial weighing area are always a disadvantage. Cables and their connectors usually are an important source of problems and malfunctions. They also increase the time installation and pose a significant risk to the operators. Cables are also difficult to manage while towing the aircraft or helicopter to the system during a weighing and gravity centre calculation cycle.
That's why we provide all our CARBON|aero Reference platforms with optional wireless communications. Customers may choose among WiFi or Bluetooth LE platforms, to receive in real time all the data measured by the system at their information systems. We provide also a communication protocol tailored to our customer's requirements, making easy for your TI Department to ensure CARBON|aero Reference integration in your processes.
Optional Wireless Remote Control
The bidirectional wireless communications optional in our CARBON|aero Reference platforms, provides a reliable way to remotely full control the system as if the operator were in front of the instrument.
We've implemented in the protocol all the commands required to perform the most typical actions concerning a weighing instrument. In this way, remote operators can set the scales to zero, fix a tare value or change the instrument working mode among "Measurement Mode", "Parameters Mode" and "Gravity Centre Calculation Mode" by sending a simple command from their Information Systems.
This innovative feature allows the weighing cycle to be full automated by using computer aided tests systems scripts, common in the Aerospace Industry, ensuring that the designed test procedure is perfectly repeated every time the aircraft is measured.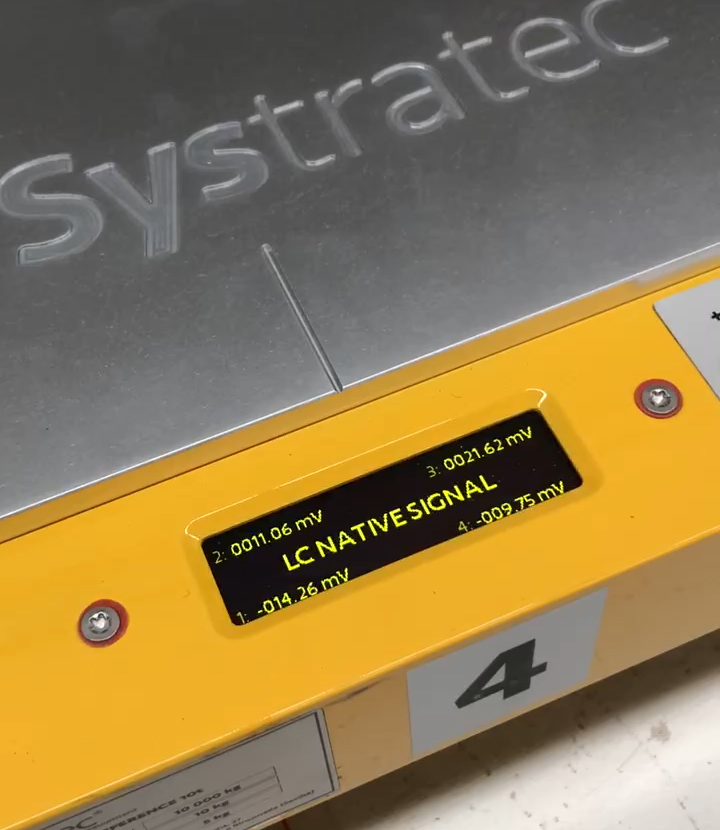 Weight & Gravity Centre measurement
CARBON|aero Reference platforms benefit extraordinarily from the advanced signal processing inherent in all our instruments equipped with the Systratec CORE + Systratec LCGRID electronics.
We continuously monitor the signal coming from each load cell, amplifying it by means of zero drift instrumentation operational amplifiers and subsequently attacking the analog to digital conversion stage by 24-bit noise-free sigma-delta converters. The signal already digitized is treated by DSP algorithms and evaluated in its quality to be later converted to weight values ​​by applying the multipoint calibration parameters stored in the system.In this way we guarantee that each weight value delivered by the system corresponds to a perfect measurement.
In the same way, the simultaneous access to each single load cell is the start of our exclusive algorithm for calculating the center of gravity, which allows us to know in X and Y coordinates the exact position of the load on the platform with millimetre precision.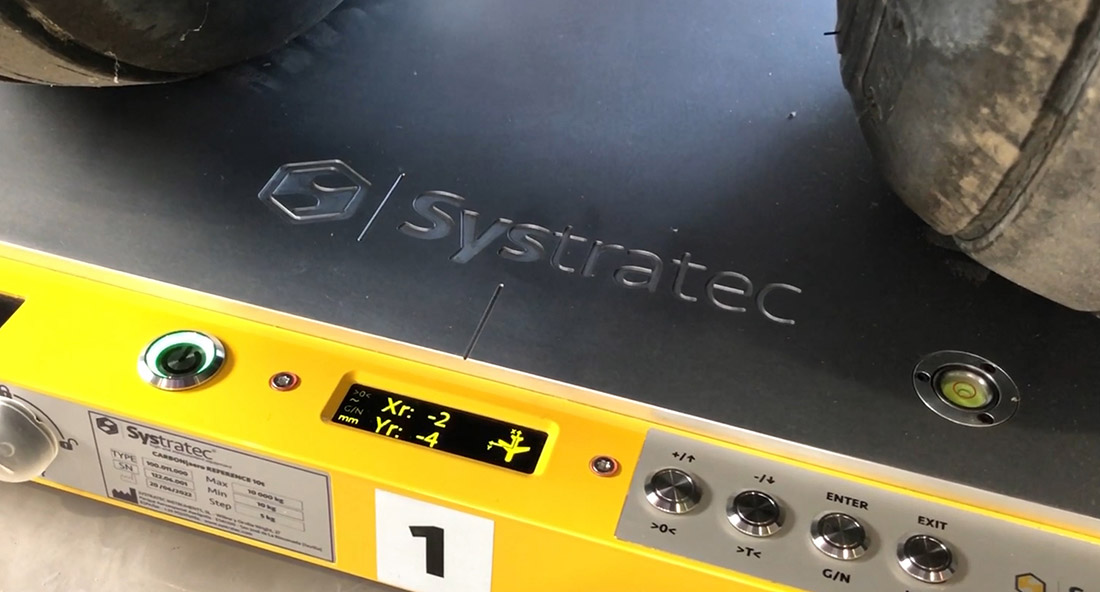 Specific Accessories
To further facilitate the daily use of the
CARBON|aero Reference
system, SYSTRATEC has designed a range of specific accessories perfectly adapted to all common tasks:
– Platform manual transport tool: designed to transport each platform from the storage car to its working location for the aircraft weighing.
– Access ramps and separators: available in several sizes, allowing to adjust the installation of the system to any aircraft footprint.
– Storage, charging and internal transport car: designed to transport the system to different locations inside the factory. It allows the vertical storage of the complete system, including ramps and index plates, and the easy extraction of all the elements for its installation. It also provides charging infrastructure for the batteries of the platforms while they are stored.
– Specific flight-case for sending platforms to the calibration laboratory: robust construction and interior in high density foam, adequately protects each platform during transport from the factory to the calibration laboratory and back, for periodic verification operations.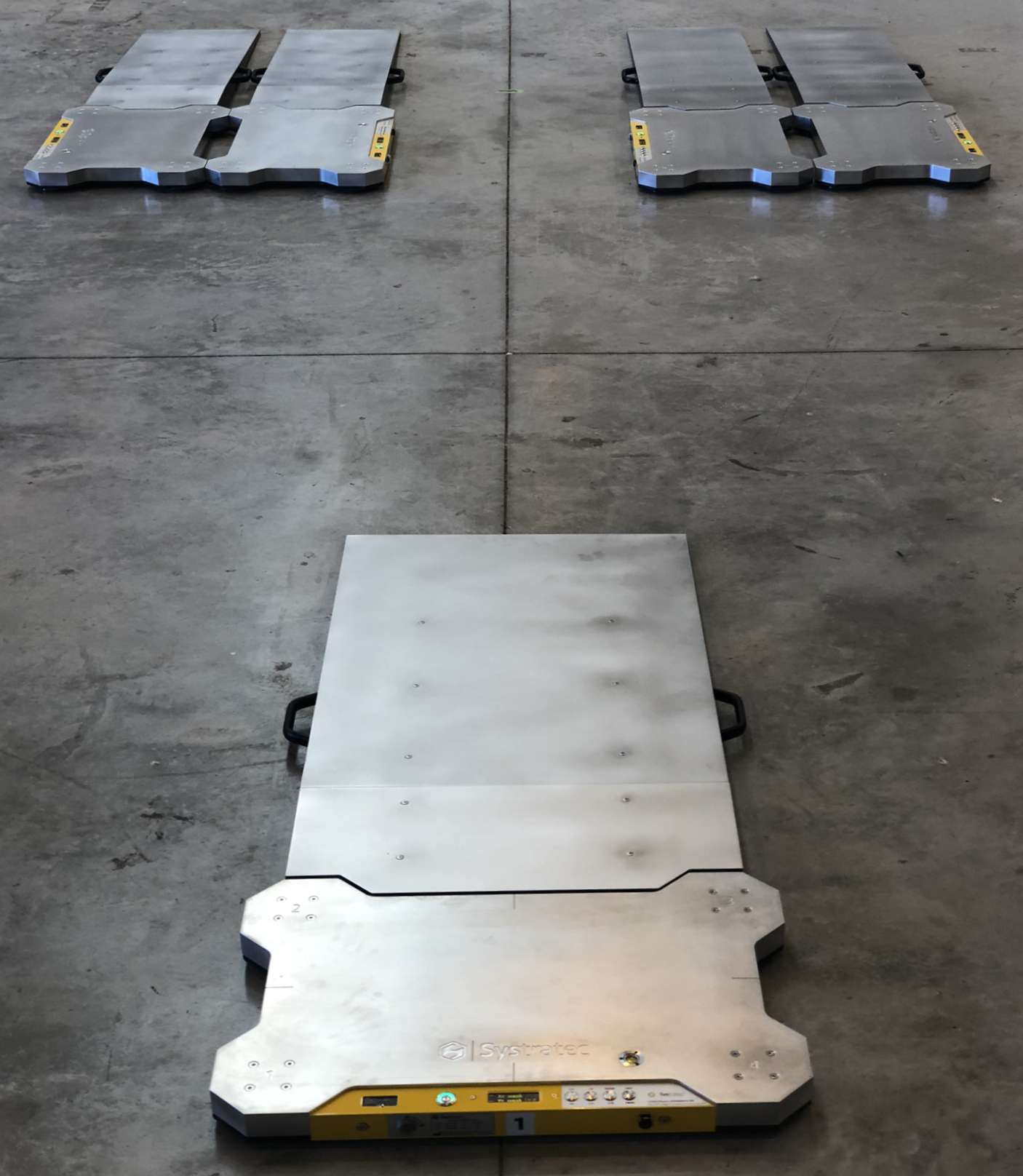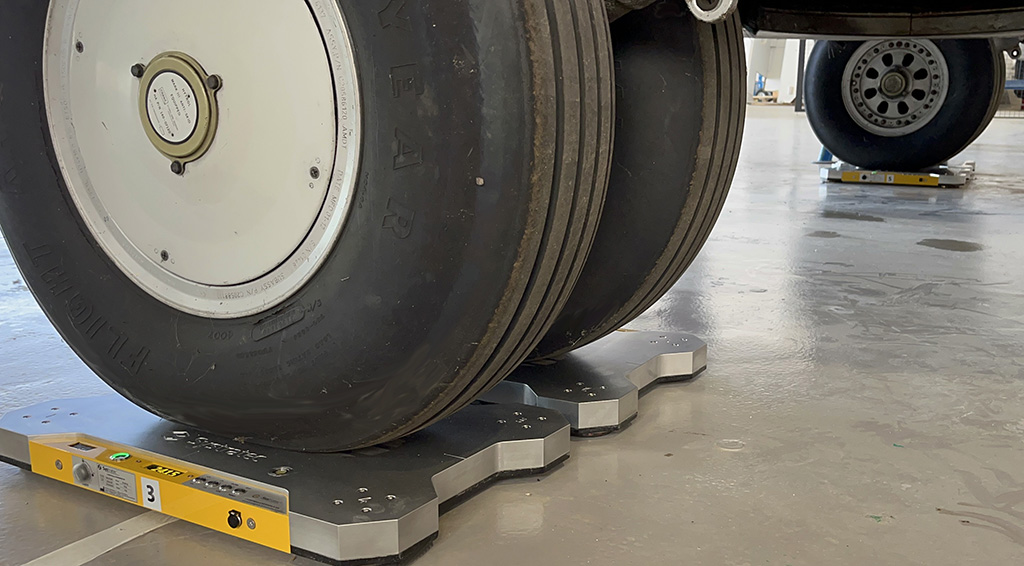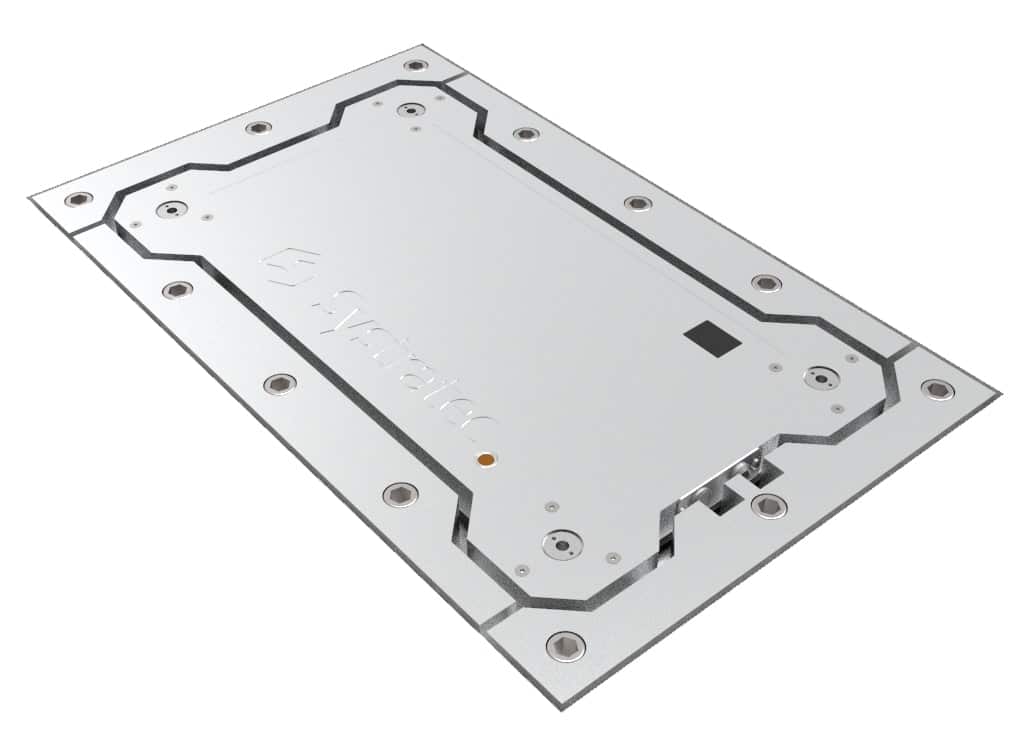 Optional ground-embedded installation kit
When you have an exclusive weighing hangar or you are in a FAL Flight Test Station, you may prefer to opt for a fixed installation of the weighing system.
The fixed installation makes the system always ready to be used, by avoiding the use of ramps and the time to install, and later to store it.
For these situations, SYSTRATEC has designed a specific fitting kit, consisting of four frames in mechanized aerospace aluminium and a steel index plate designed to keep each platform in its place of work indefinitely. No element of the system protrudes from the ground plane and, thanks to its robust construction, allows the circulation of both the aircraft and the most common traction elements in a FAL or in an Aeronautical Maintenance Factory.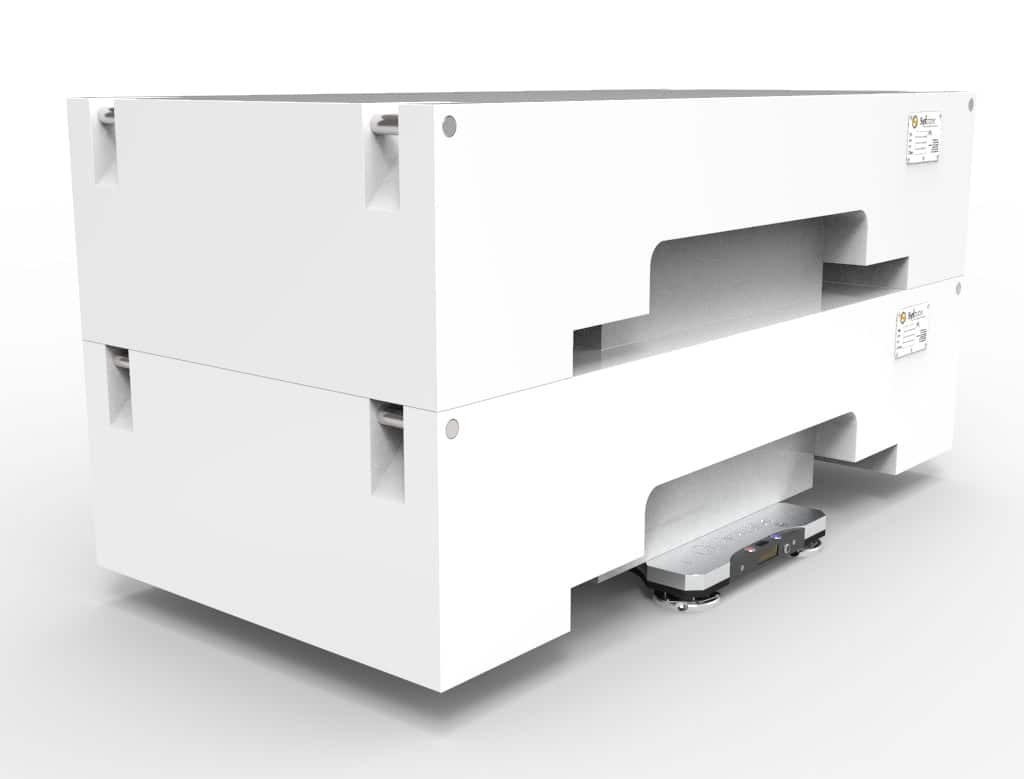 High-End aeronautical systems require same level documentation, tools and after sale services
Detailed Weighing Procedure
Developed to ensure measurement process repeatability, traceability and Quality Department control.
Detailed Mechanical Maintenance Procedure
Yearly based preventive maintenance policy to ensure uninterrupted service during complete aircraft program.
Detailed Metrological Maintenance Policy
Detailed adjustment procedure and metrological essays set, extracted from OIML recommendations, to ensure system accuracy during aircraft program.
Long term Spare Parts Policy
Responsible spare parts policy to ensure its availability during the whole program.
Custom Manufactured Control Tools
Ordering Information
We deliver our standard CARBON|aero Reference platforms in three different ranges: 10 000 kg, 20 000 kg y 30 000 kg. For special requirements, we are ready to manufacture your CARBON|aero Reference system perfectly adapted to your required weighing range and to your aircraft footprint size and geometry.
We also deliver all our platforms with their first  calibration certificate, issued under our strict quality management policy in our laboratory and the end of manufacturing process.
Standard
Aerospace-Grade Aluminium and Carbon Fibre Structure

Electronic-Assisted Feet Height Adjustment

Total Height: 55mm

Weighing Footprint: 550mm x 340mm

Total Surface Size: 630mm x 420mm

Total Weight: 25kg

Optional WiFi or Bluetooth LE Bidirectional Communications

Internal Rechargeable LiFePO4 Battery

Embedded Bubble Level

Optional Local Interface Module

Optional Embedding Kit

OIML Class III Calibration Certificat
Standard
Aerospace-Grade Aluminium and Carbon Fibre Structure

Electronic-Assisted Feet Height Adjustment

Total Height: 65mm

Weighing Footprint: 665mm x 500mm

Total Surface Size: 765mm x 600mm

Total Weight: 52kg

Optional WiFi or Bluetooth LE Bidirectional communications

Internal Rechargeable LiFePO4 Battery

Embedded Bubble Level

Optional Local Interface Module

Optional Embedding Kit

OIML Class III Calibration Certificate
Standard
Aerospace-Grade Aluminium and Carbon Fibre Structure

Electronic-Assisted Feet Height Adjustment

Total Height: 70mm

Weighing Footprint: 800mm x 600mm

Total Surface Size: 940mm x 740mm

Total Weight: 61kg

Optional WiFi or Bluetooth LE Bidirectional communications

Internal Rechargeable LiFePO4 Battery

Embedded Bubble Level

Optional Local Interface Module

Optional Embedding Kit

OIML Class III Calibration Certificate
SAMPLE APPLICATION: BOEING B737 - AIRBUS A320
Sample CARBON|aero Reference layout in accordance with B737 and A320 aircraft footprint. It is composed by six 20t CARBON|Aero Short Variant platform scales, six towing ramps and six wheel stoppers.
WHAT MAKES US DIFFERENT?
The desire to surpass traditional weighing technologies, building the most advanced, accurate and longest-lasting weighing systems on the market, is what drives the entire SYSTRATEC team. This ambitious objective is achieved by working on each scale in depth, seeking excellence in all the technologies used: the structural design, the choice of materials, the sensors used, the hardware of the measurement electronics and weight displays, the firmware of all the electronics, the calibration procedures and tools and countless other details. It is by taking the utmost care with each instrument, load receptor and electronics that we can guarantee our customers that the investment they have made in the purchase of their measuring equipment is protected and profitable by having an instrument that can be upgraded for many years and that is always capable of providing the highest quality of measured value in the industry. SYSTRATEC weighing and centre of gravity measurement systems incorporate the following unique technologies:
ULTRA-RIGID STRUCTURES
We build our scales and all our load receptors using only aerospace grade aluminium, stainless steel and carbon fibre. Our structures are designed to have zero deflection at nominal load over the tyre footprint. This results in greater linearity, accuracy and durability of all our instruments compared to traditional solutions.
FULL FIRMWARE CONTROL
As manufacturers of our own electronics, we have full control over the internal firmware. This allows us to offer the market
a very high capacity of adaptation and integration of our instruments in any customer's process. It also allows us to update our instruments throughout their useful life, evolving their capabilities as our customers' needs evolve.
MEASUREMENT OF THE POSITION OF THE LOAD
Our most advanced scales provide, in addition to the weight value, the exact position of the load on the platform with millimetre accuracy. This unique feature greatly reduces uncertainty in static mass distribution, centre of gravity or aircraft centring calculations.
HIGH-END WEIGHT SENSORS
We build our scales and load cells around high-end stainless steel sensors based exclusively on strain gauges. Partners since 2015 with the German sensor manufacturer HBM® Hottinger Brüel Kjaer, we exclusively use these load cells for their outstanding metrological quality and durability, which are recognised worldwide and present in all reference laboratories. The use of these high-end load cells allows for greater ease of adjustment year after year, virtually indefinitely, compared to other technologies such as piezoelectric, capacitive, or hydraulic pressure sensors, or low-quality load cells, which lose their ability to adjust after only a few years of use.
INDEPENDENT OPERATION OF EACH SENSOR
We do not use summing boxes in our instruments. Our proprietary electronics are capable of acquiring the individual signals of up to 20 load cells in parallel and simultaneously. We monitor each sensor during the weighing process to ensure we always provide the best possible measurement, detecting saturation, short circuits, unwanted traction states and other potential problems before giving a weight value that may not be of our trademark quality.
Aeroplane or light helicopter?
Auto|WS System
A new category in portable Centre of Gravity Weighing and Calculation systems for light aircraft.
On-Jack weighing?
Jack|WS System
Convert your traditional lifting jacks into a weight & balance measurement system.
Aeroplane or medium helicopter?
Aero|WS System
The standard in portable weighing systems for helicopters and medium aircraft.
An embedded system?
Discover our fixed system for weight and balance measuring in hangar or FAL.
Do you need more information?
If you have any doubt or you need to obtain further information don't hesitate to contact us.